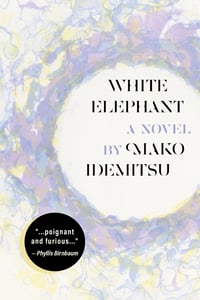 $

15.00
Hiroko, headstrong and irreverent, uses her father's money to move to New York, promising to become a famous artist. Intolerant of weakness in others, she crumbles in the face of her own shortcomings. Sakiko, fragile and unsure in 1960s San Francisco, falls into marriage with a brazen Californian artist.
From catty carpooling moms to manipulative stoners, abortions to adultery, White Elephant is a vivid book from a seasoned artist turned writer. Mako Idemitsu, daughter of Rockefelleresque petroleum executive Sazo Idemitsu, reconfigures her own family discord to reflect on the binds of being female in this quietly complex English translation.
Mako Idemitsu's critically acclaimed experimental films investigate gender, domesticity, and Japanese identity. She has been featured in major contemporary museums worldwide including New York's MOMA, Paris' Centre Pompidou, and Tokyo's MOCA.
Juliet Winters Carpenter is the first person to have won the prestigious Japan-US Friendship Commission Prize for the Translation of Japanese Literature twice.
This title is scheduled for release in October 2016.
Download a
Reader's Guide
Press Kit
Photo of Mako Idemitsu
Photo of Juliet Winters Carpenter
Mako Idemitsu's CV at the Brooklyn Museum Feminist Art Base